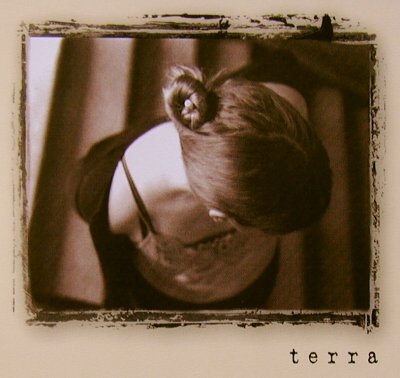 Here are pictures from Terra's last concert, May 11 2001 at the Waldron Arts Center. There will be small Quicktime videos here soon, check back...
See pictures from the latest concerts, February 16 at Borders and January 28 at the IU Art Museum.
The photograph above (by group member Hannah Dumes) is the cover of the new CD, Terra, released at a concert at the Rose Firebay of the Waldron Arts Center on Mothers' Day, 2000.
The music ranges from a 16th Century Spanish piece through Shape Note, Appalachian, and Georgia Sea Island pieces, to Fount, a contemporary piece by Malcolm Dalglish and Wind Whispers by a Noelle (another member of the group) with brief stops in the Balkan region and South Africa.
| | |
| --- | --- |
| | Here are some music samples from the new CD (sorry I can't "stream" them -- your computer will download the whole file and then begin playing. It'll be worth the wait though!): |
| | |
| --- | --- |
| | Here are some pictures from the CD release concert: |
| | |
| --- | --- |
| | Terra also performed at Acappellooza 3 at the Buskirk-Chumley Theatre on March 28, 2000. |
| | |
| --- | --- |
| | Terra is directed by Moira Smiley, who also sings with Vida. |

Click on one these icons if you need a player for the audio:

last updated May 11, 2001