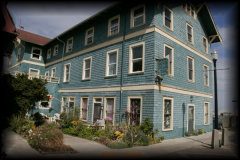 Sylvia Beach Hotel
We arrived in Newport around just barely in time to be counted among the diners at the Sylvia Beach Hotel. It turns out dinner there is a social event, where diners are seated with "strangers" and then forced to play a getting-to-know-you game: "two truths and a lie". Our table was populated by two couples from Phoenix who have been to the Sylvia many times in the past 30 years, and a young fresh U of O graduate interested in Africa and NGOs. We probably would have done just fine getting to know each other without the game, but the game was interesting too.

The rooms in the Sylvia Beach Hotel are named for authors. We were in the Mark Twain room, which had a fireplace, a deck, a bathtub, and an ocean view from the second floor. After dinner, Kelly was determined to use all of the above, so she set a fire while I had mulled wine and read some Twain in the hotel's library and game room on the 3rd and 4th floor.

When I returned to the room, Kelly had the fire going and had come up with a way to enjoy the bath and the deck to the fullest (of course). She would soak in the very hot water for a few minutes, then run out and sit on the deck, letting the cold wind from the ocean cool her down, then run back in and take another bath. My arrival and use of the bath required that Kelly make a stop at the fireplace while I soaked, and while I was in my first rotation in the breeze and she on her third in the bathtub, a log fell out of the fireplace, setting off the smoke alarm.

We had to turn on the lights to see how to fix the fire and I began fanning the smoke alarm with my towel. (It's about midnight, but until I began fanning in the doorway to the deck, I noticed that there were lights on in the two lodgings south of us, but once I began my fanning routine, curiously, all their lights went out.) Anyway, once we had the logs back in the fire, we turned off the lights, and I stopped fanning the smoke alarm, which promptly went off again! So, while I fanned, Kelly opened windows on the windward and leeward side of the room, and I stopped again, but the red light on the alarm went on again, so again I fanned. After a while, Kelly asked me to tell her each time the red light went on, and it turned out that the light was not only the precursor to the alarm, but also a battery check. So, after about a half and hour of vigorous fanning, the smoke was cleared, and we collapsed onto the floor in front of the fire.

"Now that, young man, is the way to wave a towel!"