WYMS LLC
We are an engineering company dedicated to increasing the understanding of utilty of human powered transportation.
Currently offering: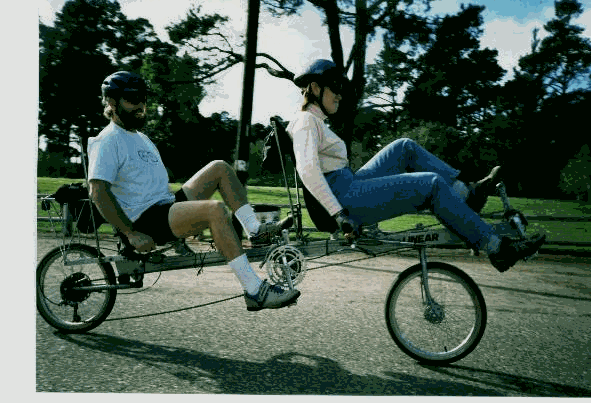 A rear suspension unit for the Linear Recumbent bicycle. This Unit adds a plush ride and rigidity to the drive train of the venerable linear.
A suspended recumbent tandem is a boon to every marriage.
Note the ability to use a rack with the unit.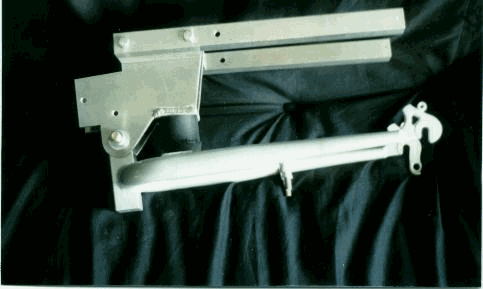 The unit replaces the folding Linear chain stays. The folding capability is lost. A 20 inch wheel must be added as well as the brakes, derailleur and seat stay nipples.
BEING THE CHRONICLES OF THE LORDS OF THE CHAINRING
We offer the class notes for "Single Track Vehicle Design" ME-441 at the California Polytechnic State University at San Luis Obispo. These notes are a compendeum of 10 years of bicycle design experiments. As well as the Professors experience as a military pilot and engineering consultant at The Air Force Flight Test Center at Edwards Air Force Base and NASA Flight Simulation at Ames Research Laboratory at Mountain View California.
The notes include the theoretical background for the engineer and information for the designer as the the effect of changing frame geometry on vehicle handling qualities. Numerous photographic examples are included.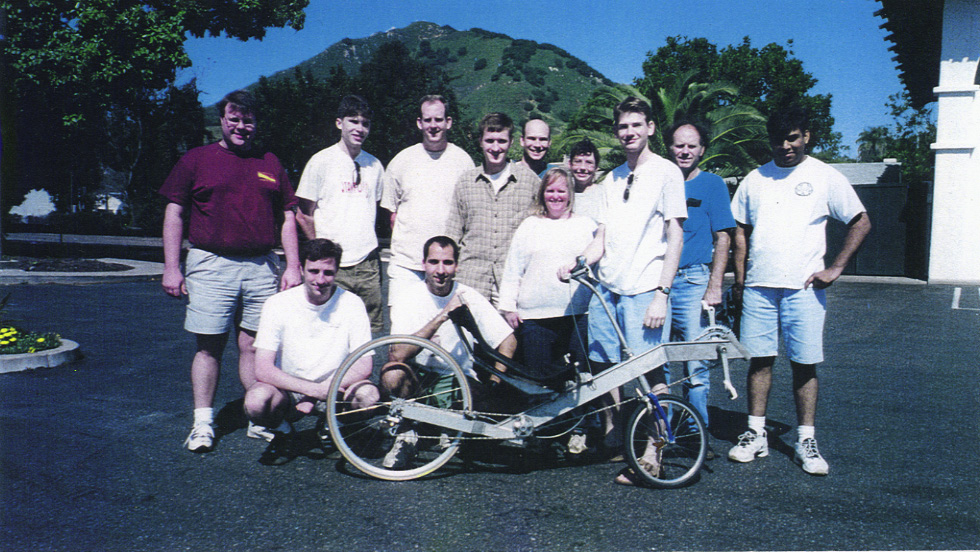 PRESTISSIMO and the American Society of Mechanical Engineering Human Powered Vehicle team. First place in the male and female sprints at the 1998 ASME HPV championships. Photo courtesy of Bjorn Monteen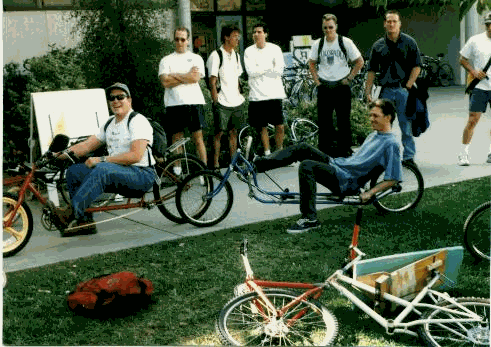 Weird bike parade day for the Me 441 bike design class.
These are a few of the folks that have successfully used the handling qualities theories in the "Chronicles of the Lords of the Chainring".
You can own the suspension unit for: 415 $ + 21 $ shipping
The "Chronicles of the Lords of the Chainring" is: 32 $ + 2 $ shipping
A computer program to accompany the "Lords" is available in either qbasic or xl. 10 $.
Make checks payable to William B. Patterson
Send checks to: Bill Patterson
Wyms
P O Box 2278
Orcutt CA. 94357